WELCOME TO CARMINE'S GOURMET MARKET
The Ultimate Shopping & Dining Experience Palm Beach Gardens, Florida
Carmine's Gourmet Market has proudly served Palm Beach Gardens and surrounding areas since 1988. We strive to provide the freshest selection of Butcher Meats, Fresh Seafood, Delicatessen, Fresh Produce, Bakery & Extensive Wine Selection & More. With our full-scale gourmet Grocery Department, you'll find everything you need, whether you're shopping for the week or a special occasion.
Your family's tradition starts at Carmine's.

MONDAY – Large Cheese Pizza   $9.95 ea
TUESDAY – Chef's Choice Sushi Roll   $5.95 ea
WEDNESDAY – Fresh Driscoll's Strawberries (16oz)   $3.99 ea
THURSDAY – Slow Roasted Prime Rib (after 3pm)   $24.99 lb
FRIDAY – Jumbo Pre-Cooked Shrimp Cocktail   $9.99 lb
SATURDAY – Chef John's Baby Back Ribs (fully cooked)   $12.99 lb
SUNDAY 1 – Italian Hot or Sweet Sausage   $4.99 lb
SUNDAY 2 – Chuck Burgers $4.99 lb
EVERY DAY – Purdue Natural Roasted Chickens $9.95 ea
GOURMET GIFT BASKETS
Give The Gift of Carmine's.
Carmine's Gift Baskets are the Ultimate Gift. Uniquely Designed for: Birthdays, Anniversaries, New Homes, Weddings, Holiday's, Corporate Gifts & More! Partnering with FedEx allows the gift of Carmine's to be Enjoyed anywhere in the United States! Call 561-775-0105 for more information.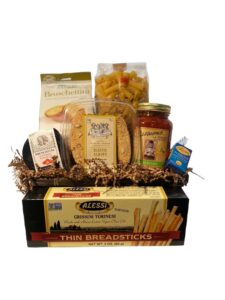 CARMINE'S GIFT BASKETS
Specialty Gift Baskets
Carmine's Frequent Shopper Card!
Valid to redeem in La Trattoria Restaurant
Reach $200 in the market and get one of the following:
Appetizer (Up to $12.95 value)
MARKET HOURS
MONDAY – SATURDAY
9:00am ~ 7:00pm
SUNDAY
9:00am ~ 6:00pm
CONTACT